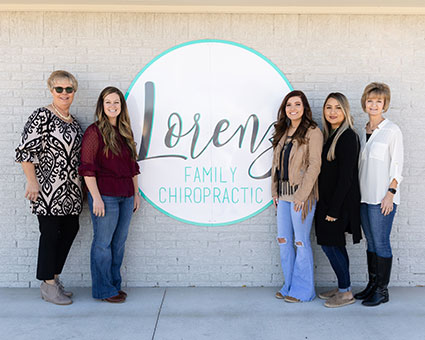 About Lorenz Family Chiropractic
Welcome to our practice! We love caring for patients of all ages and are here to help you meet all the milestones in your life.
Our Mission
Our mission is to get sick people well; get them moving well, feeling well, and staying well wherever they are on their wellness journey.
A Higher Standard of Care
Our Christian values guide everything we do at Lorenz Family Chiropractic. We have high standards to provide you with excellent care. Our intent is to find the source of your problem, correct it, and allow your body to heal itself as it was designed to do.
Providing Quality Care for the Community
Dr. Kimberly Lorenz was born in Missouri. After graduating from Logan in 2012, she and her husband relocated to Texas. At first, she worked in another town and traveled to Littlefield once a week to service patients.
Recognizing the great need to help more people, Dr. Kimberly increased her hours in Littlefield. In 2014, she opened her practice and moved here to better serve the community. As the only chiropractor in the county, her goal is to raise the level of wellness for everyone she can.
MEET DR. KIMBERLY
A Hands-on Approach
Chiropractic adjustments have proven safe and effective for everyone, from newborn to seniors. Following your customized treatment plan will unlock your body's natural ability to heal itself.
We provide natural, holistic health care for the whole family. No matter what's bothering you, come in and let's see what we can do. You might be surprised at how many complaints, issues and problems chiropractic can handle. It doesn't matter what it is; we'll do our best to help you.
Results You Can See
Dr. Kimberly has had numerous success stories in her practice, including helping kids with bedwetting problems, elderly patients who stopped using canes and walkers, and more. One patient complained of sciatica, but wanted to run a 5K—and did!
Take That First Step Today
Reach out to our staff with your questions and concerns; they'd love to speak with you. Contact us today and ask about our new patient special!
---
About Lorenz Family Chiropractic | (806) 485-7000